After Surviving Trafficking In Nepal, Nisha Embraced Her True Identity In India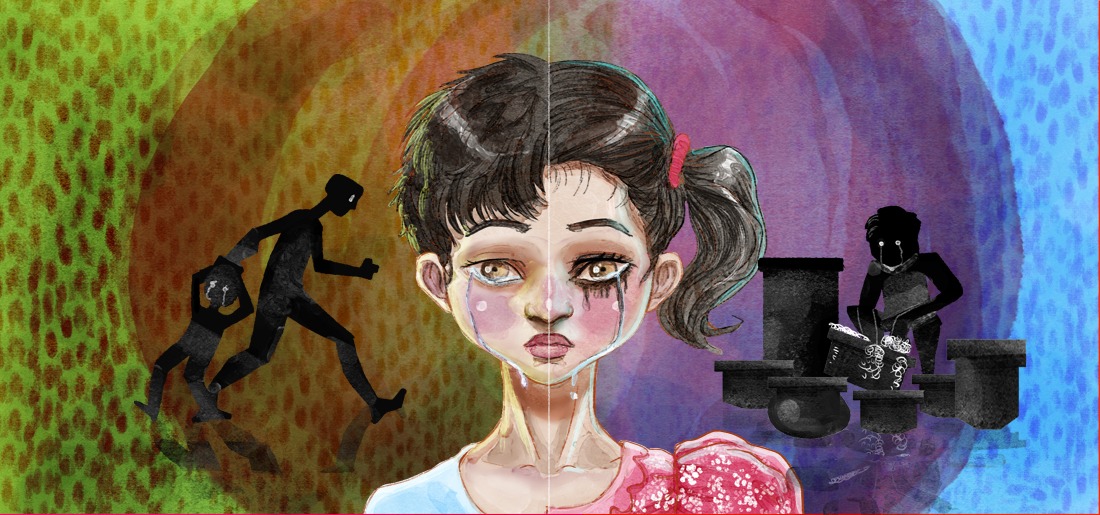 "I was a child with no understanding of the world. They said I'll be given good food, clothes and I'll go to school, so I went with them," said Nisha, who was trafficked as a man from Nepal, and now identifies as a transwoman in India.

"Only when I realised that people in the new place didn't understand my language, nor could I understand their language, I understood that I was trafficked," she added.
Nisha, 29, who lives in Gorakhpur district of Uttar Pradesh spoke to Indiatimes on her journey of being trafficked from Nepal to India and getting forced into child labour and later on, discovering her real identity as a transwoman.   

Jump To
Discovering her true identity
"Life was always a challenge for me. All the memories of my childhood are bitter. I was forced to wash utensils till by body ached, only wafter which they would give me 2 rotis to eat. I worked at a dhaba, somewhere in Bihar. For next two years, I was there. I think it was close to Patna. After that, I ran away to avoid working and literally begged for food in trains. Then I found another job at a grocery store and worked [there] till I was 15," Nisha told Indiatimes.

At the age of 16, Nisha says, she realised she felt like a woman. "I don't know what exactly happened but a newly married lady came to the shop and I just could not stop adoring her makeup, sari, jewellery and everything else. I realised I wanted to be that."
Also read: How Public Data On The LGBTQIA+ Community Is Shaped And Erased In India
"I could never have been able to live the life I wanted if I was in my home country. I hailed from a lower-class family who barely knew what a trans person is. [They assumed that] trans persons are born with the genitals of both male and female. [As] they would discover that, they would discard that child from the society and family," Nisha said while talking about her home in a hamlet of Pokhara, Nepal.
However, Nepal on track to achieve marriage equality with a recent Supreme Court order that asked the government to set up a mechanism to register non-heterosexual marriages. This way, it would become the first South Asian country to do so, and the second country in Asia to register same-sex marriages, which is a significant historic milestone for LGBTQIA+ rights in the region. Such progress would represent a remarkable step forward in the fight for equal rights and recognition for same-sex couples in Nepal. 
In 2007, the Supreme Court of Nepal recognised the rights of LGBTQIA+ individuals and ordered the government to end discrimination against them, including granting them the right to marry. The court's decision also allowed for the recognition of a "third gender" on official documents.
Meanwhile, in India
In the NALSA Judgment in April 2014, the Supreme Court upheld the rights of all individuals to self-identify their gender. Following this, the Transgender Persons (Protection of Rights) Act was implemented in November 2019. It was enacted to protect the rights of transgender individuals and to provide them with socio-economic opportunities. The law recognises transgender persons' right to self-perceived gender identity and the right to be recognised as male, female, or third gender.
Nisha argues that the law in both countries imposes overly bureaucratic processes for obtaining certificates of identity and fails to address issues such as hate crimes and violence against transgender individuals. "They talk about third gender's recognition and equal rights but it is not the case in reality, if you check on the ground."
Currently, Nisha works as a salesperson. "I sell saris door-to-door. I make around ₹7000 a month, 50% of what goes into rent and travel. The other 50%, I save for a big thing," she said.
Also read: LGBTQIA+ Mental Health Toolkit: How To Navigate The Complexities Of Well-Being

Nisha is saving for her gender affirmation procedure to be done in Noida and wishes to go to Nepal post-surgery. "I have saved around ₹60,000 and need ₹2 lakhs more to undergo the surgery and therapies after that. Once all of this happens successfully, I wish to go home someday. However, I have heard Nepal government hospitals do the surgery for free or [for] a minimal amount but what to do now? This is my country. I will go there to find and meet my family with a totally new identity."
For more stories on the LGBTQIA+ community and queerness in India, keep reading Spectrum on Indiatimes.